We are now well into Spring and for interior lovers this only means one thing – a room refresh! An aspect of interior decoration that's often underestimated is window dressings… When considering curtains, many of us think of:
Traditional aesthetic
A necessity – to block light, conserve heating and ensure privacy.
Our most recent recruit, Zoe Newson (who spent several months after graduating working for a specialist curtain designer) is here to declare that curtains can be so much more than a functional drape – they can be a unique feature that adds colour, texture and warmth to any room.
First, a bit of terminology:
Window dressing – any curtain, blind or shutter
Header – The top of the curtain that attaches to the track or pole. The style determines the overall look of your curtains.
Track – Typically a metal or plastic finish, hanging curtains with a heading tape. They can be either face fixed to the wall/window recess or top fixed to the ceiling.
Drop – The overall length of a curtain, from the header tape to the bottom seam. It can be altered to fit within your window surroundings e.g. to sit on the underside of the sill but above the radiator.
Stack – The amount of space the dressing occupies when drawn back. The heading of the curtain will define how uniformed the stack is and whether there is a large bounce back of material.
Made to measure curtains are a bespoke finish that you can design to fit your room's interior style. With so many curtain headers on the market, choosing the right one can seem a daunting task, but can also help define the overall theme of your curtain. The latest header on the curtain scene is the 'Wave', known for its contemporary aesthetic and minimalistic finish.
The term 'wave' refers (as you might expect) to the header fold – the curtain fabric is gathered in ripples for an informal, modern style. The curtain header was created to be a more uniformed curtain that maximises the amount of light into your room.
Wave header curtains are typically fitted to a slim and discreet track, making their stack tight and convenient for small spaces. This makes them ideal for tall windows, as discreet tracks can be 'top fixed' to the ceiling. This can create a dramatic drop allowing your windows to appear larger than they are. When choosing a track, consider the options of a pull wand to avoid you pulling the fabric. You can alternatively use a motorised track (ideally solar powered – read more about this and other easy ways to be greener when renovating here), to do it all by the touch of a button!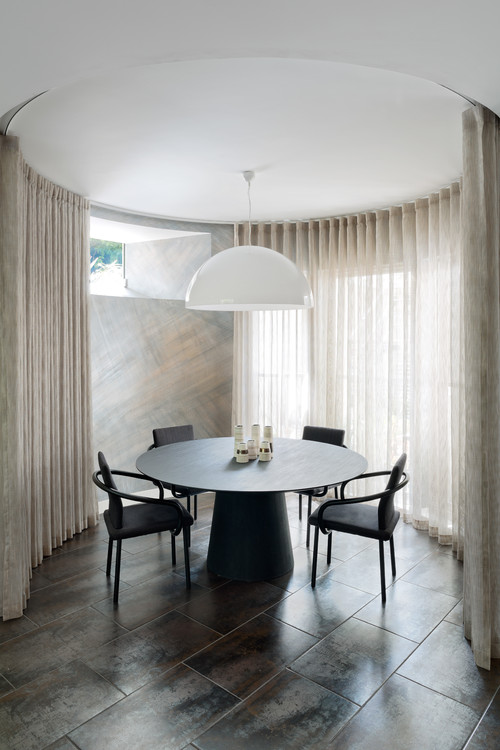 Wave curtains certainly create a more modern aesthetic within your interior but the way they affect your immediate space can be controlled by changing the size of your wave. The standard wave sizes are 60mm or 80mm (the width of each individual wave). This also determines the depth of the wave from the track:
60mm waves are shallower. They require less space from the wall for projection and create more waves in the overall width of your curtain.
80mm headers have a deeper wave, creating a more dramatic fold within the fabric. 80mm curtains require a larger projection space from the wall and produce fewer waves across the width of the fabric.
If you have limited wall space either side of the window, the wave header is particularly suitable because it pulls back into a neat stack. This allows you to frame your window for a balanced aesthetic. With its simple folds, we recommend you consider a strong pattern with a large pattern repeat to create an eye-catching statement within your room. Alternatively, a wave curtain in a sheer fabric looks just as impressive.
When next updating your interior, it's important not to overlook how big an impact a window dressing can have on the space, especially the wave header for its contemporary, yet practical fold.
If you need help with your renovation, window-covering based or not, contact us now.