Each project that we undertake – big or small – has a fairly lengthy and thorough planning process, where we spend time designing and sourcing fixtures and fittings, while ensuring that items chosen/designed are functional, and suit the brief, property and style of the clients. One of the projects currently in planning is quite large, involving a rear and loft extension and complete renovation throughout. See how we've worked through the planning process so far below, and where we're at now:
Mood-board
We don't always feel a mood-board is necessary, though for this particular project we felt it was required as a starting point, due to the project size and elements to be considered throughout:
The clients are bringing a lot of their own iconic pieces of furniture, having collected treasured items for years that will add a defined style to the home.
The property is a terrace house in a conservation area that includes traditional features throughout, such as bay windows, shutters and dado rails throughout, which also needed to be taken into consideration.
The clients were also clear on what they did and didn't like, which was a helpful starting point ahead of compiling the mood-board – they love mid-century design, light tones, and warm timber tones. They were also clear about disliking metallics and strong/bright colours.
The resulting mood-board is calming, fresh and welcoming, and has been used by us as well as other specialists as fixtures and finishes are chosen/designed. 
Sustainability
Sustainability is extremely important to the clients – as this is to be their forever home, and fairly extensive works are planned, they wanted to use the opportunity to incorporate fittings that will reduce the carbon footprint of their home. We enlisted the help of our Renewables specialist Cath Hassell from ech2o, who was able to make recommendations after meeting the clients and viewing the property. These included fitting solar panels, using a waste-water heat recover system in the bathrooms, installing triple glazing instead of single or double where windows were being replaced/new fitted, and using more eco-friendly insulation and ventilation options – learn more about these and other fittings in our previous Sustainability blog here. We were then able to get various quotes and assistance from specialists as required. We will also be recycling as much waste/scrap as possible, and plan to put any fittings removed during strip-out (that can be re-used) on Freecycle. 
Existing items
As the clients have a lot of items already owned to be incorporated into the home, we had to ensure that these were carefully considered during planning. Iconic furniture pieces such as the client's walnut Eames Lounge chair or Knoll Saarinen oval tulip table (the same table is shown in a Houzz photo below) are quite large, and as they are such beautiful statement pieces in their own right, they needed to be placed where would be best suited (for fit and to be admired).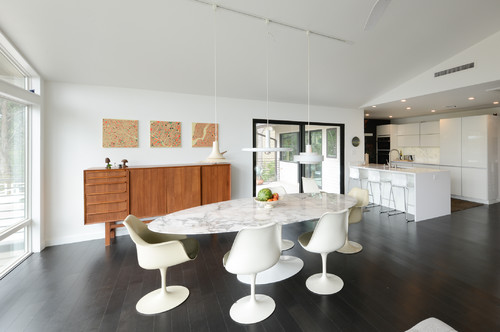 The clients also own over 1000 books of various sizes, and so required suitable joinery to house them in a way that worked with the rest of the property and finishes throughout. We carefully counted existing books, worked out how many there were of various sizes, and planned joinery to suit. 
Where are we now
After beginning the planning stage of this project in July of last year, we are now due to start on site in a month, which is very exciting! The contractor has just been appointed, and we are currently finalising the timeline as well as outstanding 2nd fix items for throughout. As this is quite a big project involving several specialists and the added bonus of work being completed in the same year that Brexit has taken place, during a global pandemic, we want to be absolutely on top of everything as much as possible to be best prepared for delays we may encounter. Watch this space for updates coming soon!
If you need help with your renovation, contact us now!