The entryway is not only a practical way to get into a property, but is the first taste of the home seen by its occupants, and by guests when they visit. It is also often a very practical space, where keys, shoes and coats are kept, and storage of smaller items tends to end up…
Spending some time considering the design and layout of this area is worthwhile, so you can make the most use of the space and maximise the sense of welcome as you enter – read our tips below.
Front door
The first main focal point into the home, the front door has a huge impact on your entryway. Painting it well, and in a shade that works with the colour palette of your home and is reflective of your personality, is a great way to add a statement to your entryway. Changing ironmongery can also completely rejuvenate the space, by using a bolder finish such as brass, or even considering a statement door knocker.
Light
Entryway lighting is often not given a lot of thought, but it's an area that really rewards having some time spent on – making the space bright, welcoming and warm can be achieved through clever and well-thought-out lighting. Entryways often open onto slim spaces which can feel dark and crowded, and these too can be enhanced by clever lighting. A well-placed lamp on a hallway table, for example, will add a stylish touch, a warm glow, and a lower-light option for those needing to keep some low-level lighting on late at night. For more on lighting, read our Beginners guide to lighting here.
A personal touch
As the entryway is the first taste of the home when people step into it, adding touches of the occupants' personalities is a great way to provide continuity throughout the house and make inhabitants (and visitors) feel at home when they enter. Adding some treasured wall art will help occupants feel more welcomed when they enter and will give visitors a taste of what is to come in the interior décor throughout.
Practicality
It is useful to consider how to make space for the practical functions of the entryway, such as a safe place to put keys, a place to store shoes and umbrellas, and a spot for items to be reminded of (such as reusable grocery bags). Designing a sleek entryway based on Pinterest images can certainly create a lovely space, but if there's nowhere to put daily items such as keys, it can lead to frustration for the occupants and is likely to result in clutter. It's worthwhile spending some time considering what you need and then designing the space around it, to make sure the entryway is beautiful and practical. 
Mirror(s)
As entryways are often fairly small spaces (particularly here in the UK), we recommend adding mirrors to reflect light around, which will make the space feel bigger. They are also useful for glimpsing a reflection on the way in or out, as well as adding a decorative touch.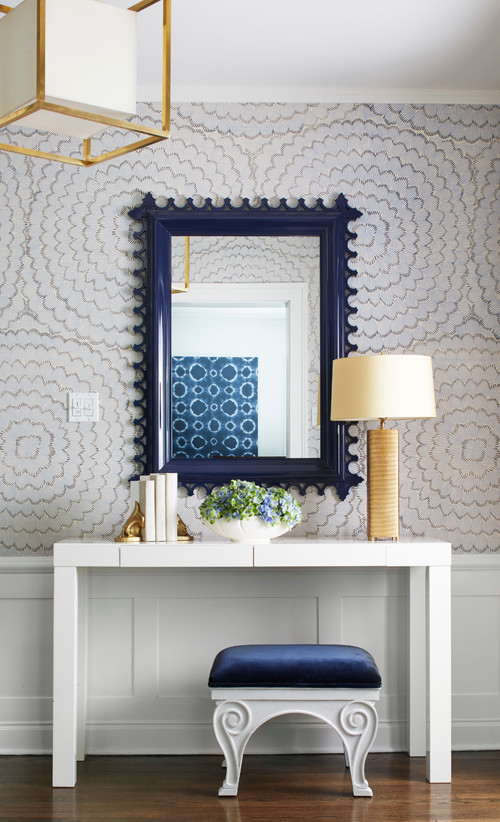 Flooring
As the entryway is the first place people (and therefore muddy shoes) trudge through on their way into the house, we recommend thinking through what flooring is best for the space. If you're doing a full renovation, fitting having a coir mat or even tiles at the entrance (as part of the larger works) will add a hardy flooring material that's easily to clean as needed. If you go for tiles, there's huge scope to add a decorative touch to the space through the use of feature tiles. If flooring replacement/renovation isn't underway, adding a good-quality doormat is a worthwhile investment. For any of our readers that have dogs, we recommend investing in a washable, extra-absorptive large mat, that can be easily washed and will help protect the flooring of your home that little bit more.
Do you need help with your renovation in London or Brighton? Contact us now!