We are often quite limited with light in our homes, particularly here in the UK – dense residential areas, long winters, and lots of traditional windows (ie. not floor to ceiling glass) means many of us have spaces in our homes that are not flooded with natural light as much as we'd like. Light is an important aspect to consider when designing your home, though there are of course many other components of a space that can be utilised if you're not blessed with as much natural light as you'd like. If there is a room in your home with less natural light than preferable, and you're struggling to make it a more welcoming space to be in, fear not – we have put together some ways to tackle the lack of light.
Make it Light, bright and airy
Using only light tones on the walls and in furniture will keep a room that has little natural light as bright and airy as possible. Paler colours reflect light more than dark colours, which helps to bounce the limited light that there is around the space. One great way to do this (that is coincidentally trending currently) is by layering various off-whites for your walls and soft furnishings, and add light timber/rattan furniture, which will keep the space fresh and airy while preventing it from feeling too sterile – read more about how to decorate with white in our blog 'On the white track' here.
Embrace the darkness, get cosier
The opposite way to tackling a dark-ish room is by embracing the darkness, using deep, dark tones for the walls, furniture, woodwork, and even ceiling. This makes the space cosy and moody, and not necessarily impractical or uninviting providing cleverly chosen artificial light is used well, and colours chosen suit the space. Think dark timber, moody dark greens and blues, layered greys and elements of brass or similar to add interest and warmth.
This may seem counterintuitive when thinking about how to tackle a dark room, but it can also be a great solution to a space that's not flooded with natural light, making the room beautiful and welcoming.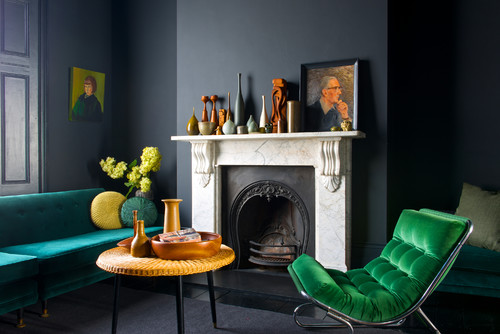 Light and mirrors
The use of good quality artificial light fittings and mirrors is one of the best ways to increase the sense of light, and utilise that light, even if it's limited light in a particular room/ area. Large mirrors (go simple or ornate…) add a lovely decorative touch while bouncing artificial and natural light around the space, and fitting multiple mirrors in a space is a great way to light and texture to a room. Installing clever artificial lighting through carefully positioned floor and table lamps adds task lighting to the room, and feature pendant or wall lights can add ambient lighting and warmth to a naturally dark space.
Manipulate the space with paint
Applying paint or wallpaper that has a slight sheen to it (for example F&B's Estate Eggshell or Modern Emulsion paint finish) will help reflect light around the space, which makes it feel bigger and brighter regardless of colour palette chosen. These paints can be used for woodwork, metal or furniture if painted, while wallpaper that has a suggestion of sheen to it will bring the same reflective quality.
Add a touch of organic
A room with little natural light can feel quite detached from the outside world, which isn't always desirable. Whether you opt for a dark or light toned colour palette, adding indoor plants brings a lovely fresh feeling to the room, which also have added air-purifying and calming benefits. Incorporating organic textures and fabrics can also increase the feeling of connection to nature that is otherwise likely missing from the space, making it calmer and more welcoming – read more about Biophilic design here.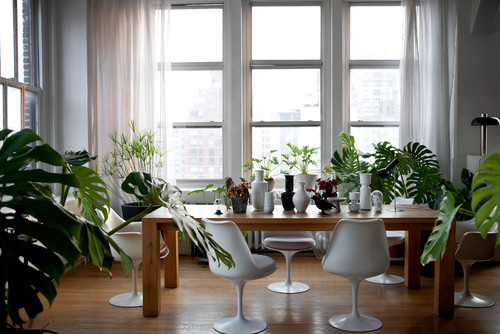 If you need help with your London or Brighton-based renovation (whether that involves lots of natural light or not), contact us now!